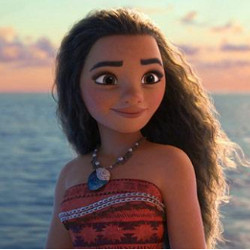 In 2016, Disney released a princess movie in which the main character did not have a love interest. It was a first for Disney. Auli'i Cravalho, a Hawaiian native, voiced the 16-year old Polynesian princess and most the film's cast also had Polynesian heritage, another monumental moment in movie history. It's quite possible that you missed the awesome animation of the water because the storyline was so well-developed.
Moana is sent on a quest to save her people. She must leave her safe island home, to take to the ocean, which becomes a character as well as a driving force in the movie. To animate an inanimate object while keeping its natural properties is something of a feat. As an added pressure, most Disney movies do not have many water scenes, but Moana had hundreds of them. Disney teams turned to technology to computer-generate the water in the movie.
Animating a Story Is a Labor of Love
Creating an animated movie is extremely laborious and complex. An artist must create the environment, everything from the props to textures of grass and ground. The characters themselves should be animatable and capable of demonstrating emotion and movement. Other designers work on lighting and effects. Bringing these elements together is much more difficult than a live-action movie. One of the pieces of the environment had to appear lifelike and act as an element of the scene.