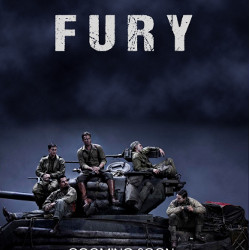 After publishing one of the scene titled "I Can't Do It" a couple days ago, now Fury gives some leaks more about the other scenes. Different with the previous one, in the scene is only 2 minutes 13 seconds length, it is dominated the tension as well as the sound crossfire. The video of the scene named 'Sherman Tiger Fight'.

At the first seconds, David Ayer voice as the director, screen play and also the producer become the narration of the video. He explains about how the usage of the tank in the Fury movie, just like described in the footage of the scene 'Sherman Tiger Fight' later. The narration is continued by Ethan Smith who is also the producer of Fury, David Willey, the tank museum owner and Andrew Menzies, the production designer.
Enterin the 26th seconds, an explosion reaching the tank is the opening. Brad Pitt is there, with a field that is full of wet soil as the background, the tank war is happening until the end of the video duration.

Besides, there are cursing voice, panic, and strategies dominating to build the real tensing circumstance. Brad Pitt gives a command to his soldiers who are in the tank to keep fighting. It is described enough the tensing circumstance in the tank.

Fury actually is a true story at April, 1945. As an ally, Wardaddy (Brad Pitt), a sergeant, tries to give the last try from them to Europe Theatre. He commands to the soldiers who have been armed with Sherman Tank in deadly mission behind the enemy lines. But thanks to this, Wardaddy and his troop get a chance to attack exactly on the heart of Nazi Germany.