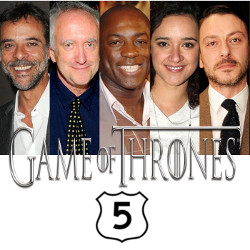 The viewers who are still crying for Prince Oberyn's death (Pedro Pascal) do not need to be sad anymore, because in the season of 5, there will be the families such as Oberyn brother, Doran Martell, will show off. This character will be played by Alexander Siddig who is so easy to get mad. And the son, Trystane Martell, will be played by Toby Sebastian.

Meanwhile, an Academy Award nominee artist, Keisha Castle-Hughes, will play for Obara Sand who is the oldest daughter of Oberyn but also a tough knight. The other Oberyn daughter, Nymeria Sand is entrusted to Jessica Henwick who is elegant but so expert in using a whip. Then, there is Rosabell Laurenti Sellers as Tyene Sand with her mainstay weapon, Twin dagger.
Besides Siddigg, the join of Jonathan Pryce who is famous as the James Bond enemy in "Tomorrow Never Dies" will attract some attention. Pryce will act as High Sparrow, a religious leader who is so quickly collecting many followers from the poors at King's Landing.

DeObia Oparei is to be Areo Hotah, an entrusted captain in Doran Martell kingdom. He was acting as Gunner in the movie "Pirates of the Caribbean: On Stranger Tides". Then there is Enzo Cilenti as Yezzan who is anti-slave before Denerys take the law back.

Nell Tiger Free will play for the young age of Myrcella Baratheon who has not appeared since the Season 2. Now, she is back but in the weaker position at Dorne because of Oberyn's death. Game of Thrones season 5 will be on cinemas next year since now it is taking scenes right now.