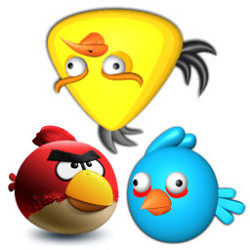 Hey, Angry Birds game lovers! Have you tried Angry birds space? If you seek more challenges and excitement on playing Angry Birds, you should not miss the newest version. Angry Birds has become one of the most popular games loved by many people. Therefore, the number of Angry Bird fans is still growing rapidly from time to time.

Both children and adults love Angry Birds characters. The characters are simple and cute. Every kid easily notices Angry Birds as the color is attractive with a cute face. The Angry Birds game has made millions of people get addicted and crazy. When a person is playing Angry Birds, he or she is also enhancing his or her short-term memory. Killing the pigs seems very easy. Otherwise, the player needs to calculate on which angle he or she can kill the pigs on one up to three shots.
Angry Birds can be played at any time and very engaging. Every person has a mobile device though. It makes every individual is able to play Angry Birds in wherever whenever such as in a break time or in a spare time. In conclusion, once one tries Angry Birds, he or she will be always curious to go to the next level. That makes the number of Angry Birds fans grows rapidly.