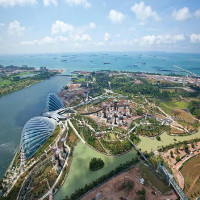 It is rightly said Singapore is a visitor's paradise…. 
If you ask couples where they would like to go for a honeymoon and 9 out of 10 would say that Singapore is their first choice. This place has a different kind of charm altogether. Although, it is considered to be expensive by many, but when you are spending on something good, you should never regret about your decision. Visiting Singapore is like a dream come true for many. And, when you have finally reached there, you must do some of the most interesting things that make Singapore so much special. 
So, here is a list of few amazing things that you should try while being in this city of dragons. Go through these top 6 places and get inspired:
Singapore Botanic Gardens
When you are in Singapore, it is a must to visit the Botanic Gardens. You don't have to pay any entry fee and the garden is open throughout the day. The lush green plants and a huge variety of flowers will just make your day.