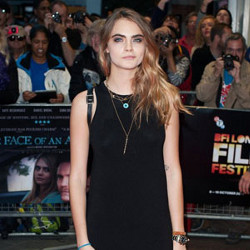 The rumour about Suicide Squad from DC Comics Universe is getting stronger. One thing that spots it is the possibility to add new actress who will get involved into the movie. The model from England, Cara Delevigne is reported to be the one who will play in the Suicide Squad. He is targeted to play for the antagonist character in the movie.

Jesse Eisenberg who plays the biggest enemy of Batman, Lex Luthor in the film Batman v Superman: Dawn of Justice is reported to also deal with the project of Suicide Squad. The other actors which are possible to get involved as well are Will Smith, Margot Robbie, and the actor of character Bane in The Dark Knight Rises (2013), Tom Hardy.

Suicide Squad will tell about a group of criminals who are in DC Comics Universe. They get a second chance to do a secret mission with their freedom as the payment. They will be sent to a high risky dangerous mission that can be ended with their all death. This film is directed by David Ayer who is just succeeded with his film, Fury (2014). He will direct the script written by Justin Marks.