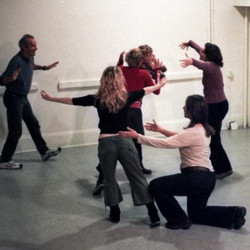 Acting is an art form and actors are artists. Yet, acting is also a craft and many of the people who practice it spend years developing the tools. The best actors often have many sources and techniques to draw from. Whether it's understanding how to deal with nerves or how to do proper deep breathing, it's vital for an actor to continue adding to their arsenal of tips and tricks.

If you want to be kind of an actor who takes a scene and makes it their own, you need to practice. You can always read monologues at home and work on them, but you can also get some effective training in a class. It's difficult to simulate what it's like to perform in front of an audience. Performing in front of other actors gives artists an audience to practice monologues and scenes in front of other people. It's an environment where mistakes are expected and accepted. Classes can help a student learn some of the differences between acting for the stage and film.
Some classes specialize in stage performing, and they teach specific techniques, like voice projection and articulation. Some classes specialize in acting for the camera (such as at the Toronto-based actor's studio Cindy Tanas), emphasizing how to be subtle and move within a certain space so you stay within the frame of the shot. (Powerful film acting is about reactions and hitting your marks. For a very thorough, dedicated course with one-on-one training for screen acting, consider registering for the "On-Camera Craft" course at Cindy Tanas at www.cindytanas.com/adult-classes/on-camera) Some classes teach aspects of both stage and film performance, but it's really important that you consider what kind of training you want and need.

In an actor's studio, a student may find a teacher who understands how to develop them as a performer. Having high quality, experienced teachers can be very beneficial for an actor. A good one will help a student find their way. They can point out little things that an actor may not be aware of, such as remembering when to turn and face the camera or the audience and how to project their voice when performing on stage. Every actor is different, which is why there are some aspects of performing that can be very difficult to explain. It's a strange process to develop the "body" of a character, how they walk, talk, sit, eat and laugh. Perhaps a teacher will be able to effectively explain how you can implement those choices and ideas for your character, but it's also possible that the students will just end up copying the performance style of their teacher. Ideally, this is where the art of acting kicks in. The art of performing begins after the basic "tools" of performing are understood.

Actor's studios thrive when the studentsbegin to use their own personal, unique imagination, and apply it to the characters that they are playing. That application is the only way to get an original performance, and originality is one of the keys to great art. Being a great actor is a long process and it might take many years of classes and on-on-one instruction before they are ready. (Because it's also an artistic journey, how can you ever be ready?) Getting the support and training of an actor's studio will help you along.