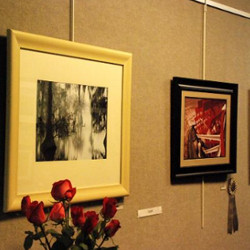 The world would be a poorer place without some of the amazing works of art produced over the centuries. Art and culture enhances our lives, entertains us, and civilises us. If there was no art or music, we would lose out national identity and have very little to talk about.

Art is a very subjective thing. We don't all like the same art, but despite this, it is still important to expose ourselves to a wide variety of different artworks in order to broaden our horizons. It is also important that children are introduced to the wonders of art as research has shown that art is inextricably linked to educational attainment. So where can you see great works of art in the flesh?
Museums and Galleries
The most obvious place to go and see works of art is in museums and galleries. There are some wonderful museums and galleries in various cities around the world: the Louvre in Paris, the Tate in London, and the Metropolitan Museum of Art in New York to name but three. However, although the famous art galleries and museums are certainly a good starting point, don't overlook smaller galleries and museums as there are plenty of amazing works of art to be discovered in these places.
In the Street
Take a good look around and you might be surprised at what you see. Art and sculpture is all around us and more often than not, there are some wonderful works of art in the most innocuous locations that might not necessarily catch your eye if you don't know they are there. Banksy is a great example of street art. There are Banksy artworks in various locations, but London and Bristol are two good places to start – in both cities you can take walking tours to the places where Banksy's artworks are located.
Hotels
Whilst you are more likely to see generic paintings in hotels, there are a few hotels around the world that are notable for their fine collections of modern art. The L Hotel owned by Georges Marciano contains a fabulous collection of modern art that includes works by Do Kooning, Jasper Johns, Warhol, Lichtenstein and many others from the Pop Art movement. The Gramercy Park Hotel is another good example of a hotel with some fabulous works of art included as standard.
Celebrity Homes
Celebrities are among the few people who can afford to splash out on famous works of art when they become available. Many celebrities have art collections that would  not look out of place in a museum, so if you want to see some great pieces of art, bag an invite to an A list party. 
Transport Hubs
Transport hubs are not just for taking you from A to B – some of them even have works of art in situ to keep you entertained. The London Underground network has works of art at many of its stations, as does the Naples Metro, so before you fall asleep on your way back to the hotel, take note of the amazing artworks around you.

Keep a close eye out for art when you go on your travels – blink and you might miss some of them.