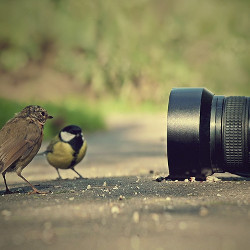 Human will always be cheerful to see and adore a shape and variation of face either through a mirror or other side. Taking picture emotionally with the character of somebody closely naturally is hard to do for a photographer. The character that images the mood and emotion of the person as the object might give you a draw about her or his lifestyle.

However, it is such a challenge or the photographer. So, let's talk more about the tips from master to create a great unique classy portrait.
The draw of the Subject

Listen to your heart. You might get the answer what make somebody get attracted when drawing a subject. Finding this aspect in portrait photography forms a basic character for especially if you are street photographer. It is such an important attribute for street photography to catch the character of the subject. Just remember that every single face you snapshot for the portrait should be interesting and classy.

Give a Feel 

How to get closer to them without bothering the character they show when you see them. In order to draw the subject, it is the hardest step in making portrait. Anything that makes them more comfortable before snapshotting will give more sense of being to the photo. But, indeed, it is quite hard to do.  The point is, you need to be able to socialize with the subject before taking the picture.

Circumstance and Mood 

Keep pay attention to the light and the circumstance of the surrounding. Light can be a good or bad factor for the portrait. Just think like an artist. A photographer should know what the best for the character drawing. For instance, if the subject tends to be brighter, show the intense character with a strong posture. On the other hand, a low light portrait can be happier and emotional to draw mood and circumstance. 

Character and Emotion 

Choosing a precise subject that is accompanied with artistic circumstance is not enough to guarantee that portrait will be classy. Then, try not to bother their expression before showing your camera, in order to get their real character and emotion. When you realize that you didn't get it on the frame, talk to them and make them remember something. Human tends to show their character in good emotion when you interact with them in proper way.    And interaction does not always by talking. Every single step will affect the face of the subject. 

Magic of Framing

How to dish some dishes out rightly, of course the answer is very important to change the vision of the food. So is for the portrait, adding some additional element or to position them into the space provided will add the quality of the portrait.