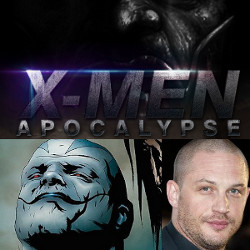 The movie star on The Dark Knight Rises (2012) who played as Bane, Tom Hardy is reported to be the primary candidate of the evil character, En Sabah Nur in the X-Men: Apocalypse. Specifically, Brian Singer and 20th Century Fox want Hardy to play the first mutant character in the world who was born in Egypt about 3.000 B.C.

En Sabah Nur himself is the character created by Louise and Walter Simonson. This character firstly comes up in the Marvel comics titled X-Factor sixth edition. He also appeared in a glance in the post-credits film X-Men: Days of Future Past (2014), in which he was played by Brendan Pedder at that time.
According to The Wrap, Hardy is also targeted to play in the movie Suicide Squad produced by Warner Bros and Doctor Strange presented by Marvel. But, it seems that the actor from England will not appear in those movies. Tom Hardy should choose one among those three prestigious films.

X-Men: Apocalypse will present again Jennifer Lawrence, James McAvoy, Michael Fassbender, Evan Peters and Nicholas Hoult to play their characters. The producer, Simon Kinberg lately also stated that X-Men: Apocalypse will be the last series of the trilogy prequel of X-Men movie. it will be released on May 27, 2016.