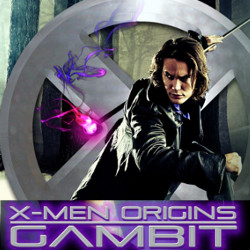 There is a good news for X-Men comic lovers, the character which is well-known with the power to play cards, Gambit, will sooner get its solo film on the next 2016 year. It has been confirmed by Fox Studio. The screen play, Fox elects Josh Zetumer who previously succeeded for writing the scenario of Robocop (2014)

The script of Gambit film is based on a masterpiece of the Marvel legendary, Chris Claremont. He is the one who created the gambit character in 1990 alongside Jim Lee. Meanwhile, the film which the plot is played by Channing Tatum still keeps the released date to be a secret for now.
Beforehand, Channing Tatum also has hinted that Fox has been planning to film solely of Gambit. In fact, firstly the plan will be done before he joined into the movie X-Men: Apocalypse. He said that the hero in the movie will change. Tatum also said that Gambit is not viewers' typical hero. He is a theft. He walked on grey area.

At first, Tatum is the selected actor to play Gambit in the X-Men Origins: Wolverine (2009). But, because of the mismatch schedule between the schedule of filming and his' so that Tatum is replaced by Taylor Kitsch.

The interesting is that Tatum himself will produce the Gambit movie together his partners, Reid Carolin, Lauran Shuler Donner, and Simon Kinberg from the franchise party of film X-Men.