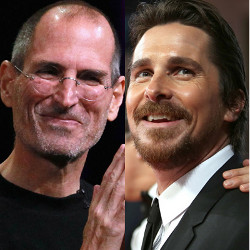 As beforehand assuring that Christian Bale is to be the actor who will play as Steve Jobs, the biography movie about the Apple founder reported has found the most likely one to be the candidate of the Steve wozniak player. He is Steve Jobs best friend who is also the initiator of Apple Inc founder. The most likely candidate for the character is Seth Rogen, a comedian who played in the Neighbors (2014) movie.

The movie titled Jobs is adapted from biography book written by Walter Isaacson with Aaron Sorkin who will also write the script.  Rogen has peeped out as the main candidate for being the first person collaborated with Steve Jobs, even though there is no deal yet until this time.
This character is interesting to see and even for Seth Rogen himself. As known, this actor has been famous for comedy movie genre. This is the End (2013) and Pineapple Express (2008) considered as comedy genre are his movie debut. So, getting a figure as dramatic character might be such a new stuff for Rogen.

In the previous version of the movie, Jobs (2013) in which Steve Jobs is played by Ashton Kutcher, the figure of Steve Wozniak himself is played by Josh Gad. So, it is such a challenge for Christian Bale and Seth Rogen to play the characters much better than the two actors.  Moreover, the first version of the movie directed by Joshua Michael Stern got a lot of sharp critics.

Christian Bale replaces Leonardo Di Caprio to play as Steve Jobs after the actor of Titanic (1997) decided to break up from acting world. The new version of Jobs movie is directed by Danny Boyle. Unfortunately, until this time, there is no confirmation related to the release date.