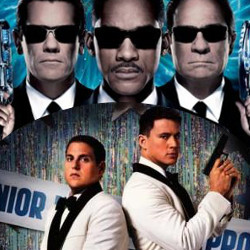 It seems that there is a surprise from Sony Pictures related to some of its movies. Based on the leaks spread around, Channing Tatum and Jonah Hill will unify in Jump Street, which is potentially against an alien identical with Men in Black's. 

This matter is known from the leak given by Hill to The Wall Street Journal. The Moneyball (2011) actor looks so optimistic with the collaboration project between Jump Street and Men in Black.

The combination between these two movies is rare. So the story must be strong. In that way, it is expected to be able to attract viewers' interest. Unfortunately, Men in Black party, either Will Smith or Tommy Lee Jones have not stated anything yet related to this project. Meanwhile, Sony has planned to release the movie in 2016 and 2017.
For this time, Men in Black have reached the third sequel of the movie. The first debut is Men in Black (1997), then it is continued by the second sequel, Men in Black 2 (2002) and then the last is Men in Black 3 (2012). On the other hand, Jump Street just finished the second sequel. It was opened with 21 Jump Street in 2012 and it is followed with 22 Jump Street in the middle of the 2014.