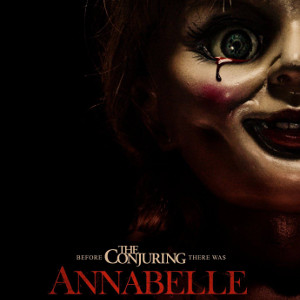 The first incident is about three fingers on a dusted window appearance. And the second one is the falling of hanging lamp chain at an old apartment.

The Annabelle film should make not only the viewers terrifying but also the screws too. The director, John R. Leonetti, also realizes how horrible the circumstance when they are taking a shoot of the spin-off film of "the Conjuring".

John said" It is so creepy" when he was talking about two appearance incidents happened on the shooting location. The first incident is when they were preparing. They were going to the apartment which is one of the shooting locations. At the time, there is full moon and there is clearly spotted three fingers on the dust around the window. "Their evil has three fingers and three claws. "
The producer of Annabelle and The Conjuringg, Peter Safran then tells the second incident which is creepier than the first. He said that when they were taking a shoot in an old apartment near to Korean town, there was something happened. Suddenly a chain of hanging lamp fell down to janitor's head. And indeed, there is a scene where a devil kills janitor in a hallway, in the script. It is definitely creepy.

The Annabelle doll is definitely available in real life. The doll is kept by two paranormals named Ed and Lorraine Warren because of containing evil unsure. A religious leader always comes twice in a month to pray for the doll exhibited at Warren's Occult museum, Monroe, Connecticut.

The movie which is starred by Annabelle Wallis, Ward Horton, Alfre Woodard, Tony Amendola and Eric Ladin tells about a couple husband and wife who will have a baby. One day, the husband is presenting a doll for his wife. But nobody knows that the doll has an evil power that threaten the owner.