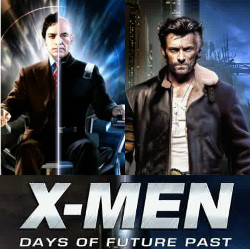 One day, they are not able to withstand anymore to block any attack from sentinel which is able to detect, absorb and copy-cat the mutans. Professor and Magnetio also feel regretful for the feud that causes the mutans divided that makes it as a threat for human. The only one way to get out from such a problem, is by go back to the past before Dr. Bolivar Trask (Peter Dinklage), has to create what he create from sentinel is used for mutan.

Logan is finally going to the past at the year, 1973 because his physical appearance cannot be changed since his body can heal any injury on his body. The Logan mission is quite hard since he should unify Charles Xavier (James McAvoy) and Erick Lehnsherr (Michael Fassbender) since these two have different mindset as a mutan.
Besides, he needs to avoid any plan of Raven/Mystique (Jennifer Lawrence) that trigger Sentinel creation in limited time. Exciting and very stressful, that the best expression to describe the movie X-men: Days of Future Past. If the old story, the mutans are more likely not able to be dammed by human power, now they are in the most critical position that their appearance gets threatened to be disappeared.

This interesting story is created by Jane Goldman, Simon Kinberg. Thanks to Matthew Vaughn as the scriptwriter that start the story with the deterioration of the mutans. Since the beginning of the movie, you will be brought to the dark circumstance and tensing through mutan deterioration creature, Sentinel. Even though the physical appearance is quite simple but the instinct to kill is so tremendous and hard to be beaten by mutans' power. Thanks to the capability to absorb and even copy the power of the target, mutans get cornered and have no way out.

The interesting in the X-Men: Days of Future Past is that when Logan comes back to the year 1973 in which there was no transportation, music and even the fashion is so far away from what it is in the era he was sent by the power owned by Kitty Pryde. Culture shock experienced by Logan in that year is really able to make you laugh in the middle of tension moreover when the claw man ask for help to Peter/quicksilver (Evan Peters) As a science fiction movie, X-Men: Days of Future Past seems full of surprises since it is presents America's history based on their own version. In the movie, you will get another side of the Jhon F Kennedy's death, Marvel version.

After all, X-Men: Days of Future Past is the right present for you who love action superhero movie. If you are interested to find out whether Logan can ensure Erick and Charles in order to unify for better future in a short time, just watch the movie in your favourite cinemas.