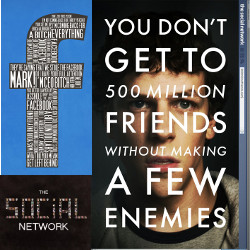 The story is absolutely about Mark Zuckerberg, the founder of Facebook. The beginning of the story is when Mark and his friends had an idea to create Facebook at their university, Harvard where he take his education. Once he got victory creating a website containing Harvard's student faces, Mark creates a new game. In this game, there are two girls need to be voted. The winner is the one who gets the highest vote. 

New craziness has made his website, Facemash, got 22,000 hits within 2 hours. It also caused the server of Harvard crashed and Mark got detention for disciplinary act.

The story about Mark spread out around Harvard and many girls hate him because of using their photos without any permission. However, there was a twin as his senior at Harvard who liked his ide and his work.
Then, he offered a job to Mark to create a dating website special for Harvard students. Mark agreed but he didn't continue his job. In fact, he keep extend his Facemash which grew up to be The Facebook. The cause of that, Mark should face a claim from the twin because he accused to cheat their idea. 

Almost all of the scenes are flashback to the time when Mark created Facebook, got investors and work with Sean Parker (owner Napster) and problems with his friends. 

Overall, the movie is really entertaining and amusing moreover you can see how Mark raise to be a billionaire at very young age in a very short time. It just needs a couple years to reach. But, the most crucial lesson from the story is about the value of friendship. It is to be the heart of Mark's victory. We also need to learn how we should not forget with our friends or anyone who support our happiness. To know more about the story, don't miss the movie at your beloved theatre.