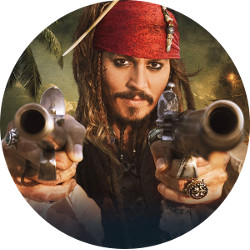 It is ensured that the fifth sequel of Pirates of the Caribbean will be started to take the scene on February 2015. The movie is titled Pirates of the Carribbean: Dead Men No Tales and it is taken in Queensland, Australia. It has been confirmed by Australia government and Walt Disney themselves.

Based on Senator of Queensland area, Hon George Brandis, they will guarantee the continuity of the making process of the movie Pirates of the Caribbean in Australia. Australia government will give donation about US 21.6 million dollars or the movie. The senator said that it is the biggest contribution from Australia to bill a big movie.

Brandis said again that it is the historical deal with The Walt Disney Studios. This movie will become to be the biggest international movie that takes Australia as the place to take shoots and it will take attention a whole world to the Australia as the destination of the outstanding movie.
Art minister of Queensland, Ian Walker, also said, "the last big movie production here is San Andreas, which employed up to 3000 crews, players, contractors and extra from Queensland, and the newest movie is Angelina Jolie, Unbroken that employed local residents up to 3.180 people".

The fifth movie of Pirates of the Caribbean is the bigger movie based on the spending rather than the other movies with big spend. In that way, the economical profit for the country will be greater," said Walker.

After experiencing some times delays, this fifth movie is confirmed that it will be released on July 7th, 2017. Joachim Ronning and Espen Sandberg are also confirmed to be on the back of the screen, so is Jerry Bruckheimer as the producer, Jeff Nathanson as the scriptwriter and also Johnny Depp as Jack Sparrow.

"We have beautiful experience when took shooting in Queensland several years ago and hope to come back." Said Bruckheimer " the sea, beach, forest in Queensland have incredible perfect surrounding for Pirates of the Caribbean."