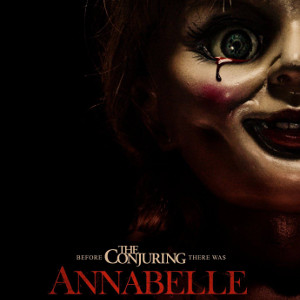 Annabelle starts when a husband and wife, John (Ward Horton) and Mia Gordon sae Annabelle doll in the house for present to his wife and the prospective child who is in his wife's womb.  After the doll is kept in the house, there are a line of horrible incidents happening. Their neighbours experience various weird incidents that affect Mia and the baby in the womb.

After the incident, Mia wants it or not, should face a number of gripping terrors that hunt her. The incidents she get are happening around her house, either the old house or even in her new apartment.
Surely, all the scenes in the movie have expanding plot so that the synopsis is more than this. Then the leaks or spoiler will be launched from this article. Some scenes also outwit the viewers which makes everybody who have watched it will be more triggered to find out the continuation of the story.

This movie shows various supernatural creatures to be more mysterious and make you creeps after viewing. The religious theme in the movie is only spicy for the story.

So, for you who have a hope to see any horror movies with gripping circumstance and full of frightening after being bored with some exorcism or founding footage like Paranormal Activity and Rec, Annabelle is ensure be able to fulfil your hope. Now, you can see the movie you favourite cinemas.