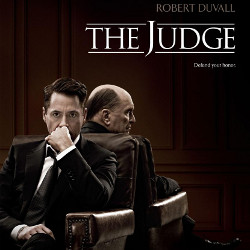 Having ideal life with wealthy basically cannot guarantee happiness. It is what fell by an outstanding lawyer in Chicago, Hank Palmer (Robert Downey Jr.). when talking about wealthy as the main part of happiness, Hank must be so happy, since he already has everything, a beautiful wife, successful job, luxury home, sport car. But behind his all perfect life, it turns out that he has messy family. He has a dark story about his life. He is also being sued for divorce by his wife, Lisa Palmer (Sarah Lancaster).

One day, his mother Mary Palmer (Catherine Cummings) passed away. This circumstance makes Hank won't go home even though he should be there because he is in the middle of handling a big case. He becomes so much sad, moreover he has bad relationship with his family especially his dad namely Joseph Palmer (Robert Duvall) who is a senior judge in Carlinville. In fact, Hank even never visits his town for 20 years and never gives any word to his family.
No wonder then if Hank is welcomed coldly and unfriendly by his father for his coming up to the funeral of his mother. It is only his brother, Glen Palmer (Vincent D'Onofrio) and Dale Palmer (Jeremy Strong) who want to talk to him. Until one day, in the funeral, his father is suspected to be a murderer in a murder case. This circumstance gets Hank to be the lawyer of his father in the court. Hank believes, even though he has bad relationship with his father, that his father is not a murderer.

The story above is about the story in the movie titled The Judge. It is produced on the collaboration between Warner Bros Pictures and Village Roadshow Pictures which brings family drama as the main theme. This movie is one of the most waited movies in this year, 2014. The main factor is the actor, Robert Downey Jr. It is clearly seen that Robert Downey Jr. was awesome in his character on Iron Man as Tony Stark. He could become annoying and inspiring person at the same time.

The other thing which is so interesting in the movie is the dynamicity of the plot. It is not monotonous at all. The viewers will laugh on one scene, and will be touched in the other scene. The characters in the movie are so varied. Let se Hank Palmer, he actually looks like Tony Stark. He is a stylish.

So is the Josep Palmer's character. He is so tough, conservative, but also simpatico and has principle. There is a reason why he is tough. Even though this character that makes his relationship with his son, Hank Palmer broke. We need to appreciate the collaboration between Robert and Duvall since the two bring a great relationship between father and son. The other thing that is also important about the movie is the moral message behind the story. It is very useful to be seen by family. You will learn how important building communication with the family. Honesty is the best way. Then, will Hank Palmer depend his father on the court? Is the relationship between father and so getting better? Let's check by watching the movie.
When you check divorce debbie, you will realize that its not money or wealth that would determine real happiness. Its peace of mind and good relations that would matter! The Judge also says this story and justifies that how brutal and bitter divorce can be."