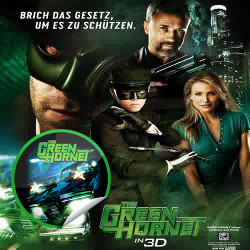 Being a superhero like Superman or Batman is not difficult thing to do for Britt Reid. He plans to be a superhero deliberately like what he saw in movies. He did it after his father passed away and he got one of the biggest newspaper companies in LA. Britt who is such a playboy, spoiled boy, and even have no clear goals in this life. He gets confused with all wealthy inherited by his father.

And then his friend, Kato, his servant, makes him realised that Britt has all things from his father. Thanks to all resource he has, he decides to be a hero for his own along with Kato. They make a special car with various guns embedded. Even they choose a name for themselves and create a unique costume.
Finally, the most well-known criminal in the town, Benjamin Chudnofsky, feel distracted with green hornet appearance. The whistle of war is started to chime. They start to beat each other no matter how.

You might get used to see serious circumstance in the heroic movie. But you will get different sense from this movie. The movie is full of silly, ridiculous, funny and also tensing scenes thanks to the director, Michel Gondry.

You will see how Seth Rogen as Britt Reid and Jay Chou as Kato will be duo who work together to entertain people. There joke is always found at all the scenes. There is a sweet girl, starred by Cameron Diaz who becomes to be Reid's secretary. Even though the appearance is for lip service, Diaz can entertain the viewers too.

The other star getting involved in this movie is Christoph Waltz who becomes to be The Green Hornet's enemy. The character of Christoph Waltz is still has a connection to Hans Landa, a NAZI sadistic action in a movie titled Inglourious Basterds will disappear thanks to his character in the movie. One of the funniest scenes is when he wants to have a costume as a bad guy.