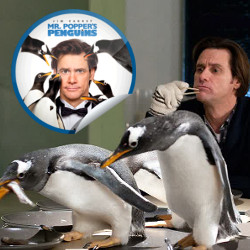 Directed by Mark Waters (Ghosts of Girlfriends Past, The Spiderwick Chronicles), the film is inspired from a 1938 children's book by Richard and Florence Atwater. Jim Carrey plays the title role of a rude, self-centered businessman who is taught a variety of valuable life lessons by a group of six penguins. The penguins were haned to Mr. Popper in his neglectful father's last will and testament and each of them exhibit unique personality characteristics, which make them more emotionally complicated than one can anticipate walking into the film.

They're assigned names accordingly: there's Captain, the leader, Loudy, the screamer, Lovey, the hugger, Bitey, the biter, Stinkey, the farter, and Nimrod, the stumbler. This film is a real treat to watch, particularly for the children and ensures a quality time spent with the family at the theatres.
In the course of the film, Popper grows closer to the penguins (and thus his family) while he tries to hide them from a poaching zookeeper (Clark Gregg) and a nosey neighbor (David Krumholtz). The penguins, which are a smooth mix of the real deal and CGI effects, appear to be endearingly bumbling. All of this would be simply futile if not for Waters'' steadiness and Carrey''s clever inserts. This is Carrey at his best, throwing in lines and funny faces in between the machinations of the movie.

As Popper balances family and profession, the building his firm is desperately seeking is Central Park''s Tavern on the Green. Angela Lansbury plays Mrs. Van Gundy (no relation, apparently, to the former Knicks coach), who is looking to sell. It is a great advertisement for Tavern, only it comes a bit too late as the restaurant closed last year after filing for bankruptcy.

So, should one watch Mr. Popper's Penguins or refrain from it? Well, you should definitely give it a watch if you want to spend some quality time with your kids and family. If spending time with your kids is not an issue with you, then it is probably better to give this movie a miss.