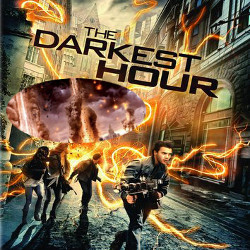 The story of Alien seems still to be interesting theme for Hollywood cinematographer to be appointed in widescreen movies. At this time Timur Bekmambetov (Producer) Presents the Darkest Hour to describe outer space figure with different form.

By setting in the Moscow city, The Darkest Hour tells about Sean''s struggling (Emily Hirsch) and Ben (Max Minghela), and Natalie (Olivia Thirlby) with Anne (Rachel Taylor) who attempt to save their selves from alien''s attacking that is so sadistic and turns off.
These fourth Youth from America is helpless when Alien that is invisible starts to slaughter Moscow residents. Along with Skyler ( Joel Kinnaman), they try to look for the way out for their safety while find out how to against the Alien whereas the first come of this weird figure seems like a beautiful lamplight.

The clue also looks when an electrician, Sergei (Dato Bakhtadze) find the way how to avoid the Alien and create certain weapon to kill him. Thus, how is the fate world population, whether they will also get the fate as same as Moscow?

On the whole, The Darkest Hour is the thrilling spectacle. from the beginning, you will be presented with the gripping scheme, although the tension will not be kept up to the end of the film, nevertheless Chris Gorak who is responsible as film director has succeeded in making you involve in the film by describing the Moscow's surrounding that was so silent after Alien attacking.