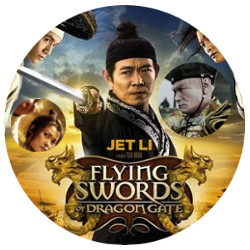 After playing in movie that tells about the legend of white snake, Jet Li will also appear in The Expendables 2 starring Flying Swords of Dragon Gate, the first Wuxia film that packaged in three dimension shape.

This movie that inspired from Dragon Gate Inn and New Dragon Gate Inn tells about an inn named Dragon Inn. Three years after Dragon Inn placed in the center of the desert have been leaved by the owner. the inn is controlled by robbers. At noon, they safeguard the inn but at night they will search treasure trove which is reportedly placed not far from the inn.
The treasure trove that was buried under the desert will be only unfolded while big storm comes each sixty years. And when the big storm told will come soon, the inn is full of the robbers and warriors and soldiers from west biro government which eager to gain the treasure.

The situation is to be more complicated when a certain concubine who was run from the palace due to she was pregnant comes to the inn. Mysterious women who confess that her name is Zhou Huai'an save the concubine and g to the inn to take shelter from big storm and also pursuit of the west biro soldiers. In such small inn, one by one, the secret of those stay starts revealed. So does the place of the treasure trove that trapped in desert.

As a whole, Flying Sword of Dragon Gate is taken in 3D form and to be the first Wuxia film that is produced in such format. The film director, Xui hark, is also no half-hearted inviting Chuck Comisky who is to be visual-effects supervisor in Avatar Movie get involve to take care in special effects side.

Flying Swords of Dragon Gate yang is starred by Jet Li, Zhou Xun, Chen Kun, Li Yuchun and Kwai Lun-mei.