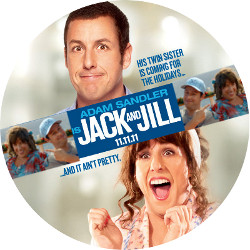 Adam Sandler comes back in to being a star in comedy movie after Just Go with It through Jack and Jill. Dennis Dugan who is already works together with Adam Sandler in several previous movies and also appears to be film director in jack and Jill, presents comedy movie which is loaded with scenes that invite laughter.

Jack Sadelstein (Adam Sandler) is an advertising executive who stays with his wife, Erin (Katie Holmes) and their children in Los Angeles. Each year, they must meet with Jack's twin sister, Jill Sadelstein (Adam Sandler) who has certain different behavior and do not want to go back to the Bronx, New York, her home. The passive-aggressive nature and too much willingness owned by Jill make Jack not stand with Jill and make his life messy.
A disharmony of jack and Jill as twin brothers faces the real test when jack turns out requiring Jill's help. Al Pacino who asks Jack to star an advertisement that is made by his company turns out like Jill. Is Jill also loves Al pacino? Are jack and Jill finally harmonious as twin brothers?

Jack and Jill who has duration 93 minutes is not only appearing a lot of comedies but also cameo that you can't imagine will be included in the movie. Just call Rob Schneider, Shaquille O'neal and Johnny Depp as several artists who involve coloring this comedy movie.