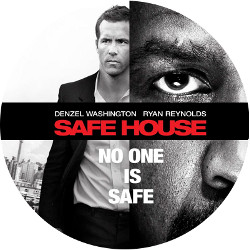 Boring routines of Matt Weston (Ryan Reynolds) as the new agent of CIA in which he serves as temporary prison guard for sought after US fugitive in Cape Town, South Africa is suddenly becoming to be tensing due to Tobin frost (Denzel Washington) present.

Tobin Frost is known as Fugitive big fish of CIA because he considered as US betrayal due to leaking secret agent identity to get his own benefits.

When Tobin Frost is interrogated by US intelligent at the temporary prisons he guard, suddenly other secret agent try to attack and seize the fugitive. In order to protect Tobin safety, Matt try hardly to save the prisoner stay live and could be judged by the country.
For the action movie lover, Safe House is pleasuring because there are many fighting unsure inside like a cross fire and also actions of thrilling car chases.

Acting as a fugitive as well as CIA legend, Tobin Frost figure is here as if he were to be main factor in presenting his skills in martial, unarmed combat and also under cover.

From story side, the movie produced by Daniel Espinosa offers so enigmatic story that ask the viewers to focus following the plot. Tobin figure in movie Safe House was deliberately made very mysteriously and will be revealed the truth at the end of the story. 

Because this movie tells about the battle of CIA members, definitely there are many intrigues inside and also heavy fighting using high technology.

Is Matt able to protect Tobin from other secret agents' attack that try to kidnap him? And is Tobin exactly a fugitive who hearts to betray his country? The answer is only known by watching the movie length 115 minutes.