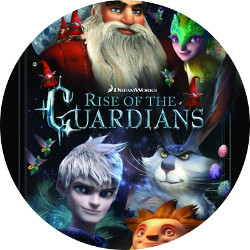 Indeed, a fairy tale is also interesting to be performed on the wide screen. This kind of themes is applied by DreamWorks Animation through its new movie, Rise of the Guardians. Different with the earlier tale animation movies made from it, Rise of the Guardians, directed by Peter Ramsey, gathers several children classical tales in one movie.

In this movie, there are six lead characters which will be the center of the story. Those are Jack Frost, Santa Claus, Tooth Fairy, Easter Bunny, The Sandman as well as the antagonist character, Pitch.

The Rise of the Guardians movies itself is the adaptation result of children's book, The Guardians of Childhood, created by William Joyce. This movie, later, will tell about all magical creatures from a fairy tales which try to keep the fantasy of children throughout the world.
The movie drama is started from a figure named Pitch who tries to dominate the world with his evil forces. Toward to protect the expectation, faith and imagination owned by all children around the world, finally, for the first time, all fairy tale characters together unify their powers to against pitch.

Rise of the Guardians, is not only offering an interesting story, but also providing the leading actresses and actors such as Chris Pine (Jack Frost), Jude Law (Pitch), Huge Jackman (Easter Bunny) and also the beautiful one, Isla Fisher (Tooth fairy).

This magic of a fairy tale story, Rise of the Guardians Movie, is planned to be released at United States cinema on November 21, 2012. Let's wait to enjoy the wonderful fairy tale.