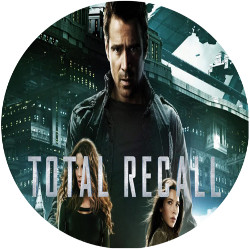 Here is the most updated movie will be released in this summer, Total Recall, the sequel of the earlier Total Recall released in 1990. This movie will be released on the next Aug 3rd, 2012.  It will perform a virtual war which is starred by Collin Farrel.

This movie stories about Douglas Quaid (Collin Farrel) in which he do virtual journey due to his fatigue on this life. He is accompanied with his beautiful wife, which is performed by Kate Beckinsale. Quaid chooses a character as to be a secret spy on this virtual journey, the interesting job but it turns out that has a big risk.
The next story, Quaid is to be such a fugitive of the police of virtual world. The police who hunt him is chancellor Cohaagen (Bryan Cranston), the leader of Euromerica. Finally, Quaid asks for help to a rebel (Jessica Biel) and meets the chief of the underground resistance (Bill Nighy) to stop Cohaagen.

Finally, the border between a real life and a virtual one is dim. Quaid needs to find his identity as well as his true love in the real life.  So, is he successful to achieve what he wants? Let's find out on several days later, on the first release day.