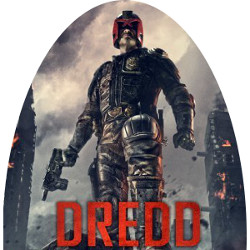 When the area of Mega City One is More Dominated by criminals started from murderers, robbers up to drug dealers, the agency that is called as a Judge is to be the only one hope of society to make their live calm and protected by justice. A judge is the holder of street court authority which concurrent as a judge, jury and jury execution. The figure most feared by the criminals in Mega City One is Dredd (Karl Urban). He is known to be strong, idealism as well as consistent in law enforcement.

One day, Dredd gets a mandate to be a mentor from the new judge member named Cassandra Anderson (Olivia thirlby) who has a special power that is able to read other people's mind. Their first job is investigating the murder of 3 people who the whole body were flayed in a building as tall as 200 floors named Peach Trees.
The two judge members succeed to catch Kay (Wodd Harris), who is also the accomplice as a drug kingpin named Ma-Ma (Lena headey). Due to concerning about the arrest that may be able to bother the drug kingpin business typed Slo-Mo, then Ma-Ma close all exit access of Peach trees and order to all her men to kill Dredd and Anderson.

Are Dredd and Anderson able to defense of live? Do they succeed to hunt Ma-Ma for justice? This movie is very interesting to watch. Almost all of stages look like a game whereas the more level the game, the more difficult the obstacles. Moreover, Dredd is not allowed to injure and kill innocent people. Enjoy he movie and how the effect of 3 D makes it much more interesting to watch.