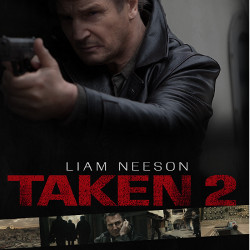 Continuing the first movie story, Taken 2 provides a kidnaping drama that is threatening the safety of Bryan Mills' safety (Liam Nesson). After living and coming back to Los Angeles, Bryan and his daughter, Kim (Maggie Grace) try to live normally as the abduction tragedy which was performed by kidnapping syndicate group. 

The live normal off Mills' family is started by travelling to Istanbul. Along with his wife, Lenore (Famke Janssen), Mills and Kim enjoy the culture as well as the beauty of the city.

However, the Mills' family happiness is no longer.  There is a new kidnapping terror prepared by Murad (Rade Serbedzija) that is the father of one of the all kidnappers. He promised that will revenge on his son's death murdered by Mills. Along with his remain groups, Murad start to find out Mills and plan to bring a nightmare to Mills' family.
If in the first sequel of this movie, Kim was kidnapped, you will find that Mills and Lenore who will be kidnapped. This question is that who will save the two both? With full of panic, Kim tries to calm down and help her parents. At first, Mills doesn't agree with Kim's decision to help. Then, Mills realizes that only Kim who is the key to save himself and Lenore.

During 90 minutes of the movie, you will be brought to the flow of the story. It is started from the discipline and accuracy presented by Mills to the vengeance circumstance from the kidnappers. The special actions from Mills will be showed clearly.

For you who have not watched the first sequel yet, you do not have to worry to be difficult to understand the story in Taken 2. It is because Olivier Megaton who replaces the Pierre Morel as the director, attaché several flashbacks as well as a number of dialogues that deliver the viewers to more easily understanding the story of the movie.

You can start to enjoy the action of Bryan Mills to escape from the kidnappers in taken 2. The premier is about October 3rd, 2012. Be ready to enjoy this awesome movie.