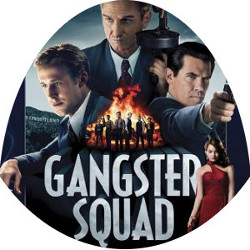 Mickey Cohen (Sean Penn) is the most powerful mafia in Los Angeles (LA). With his illegal business network he owns, it is very easy for Mickey to control the city, from the police, politician even judges are under his control.

In the city that has been controlled by Mickey, there are some people who are clean from mafia control. One of those is Sergeant John OMara (Josh brolin) who is LAPD police detective. John who is an ex-army attempts to destroy Mickey's network. However, John can do nothing even his boss is under control by Mickey.

Finally, the offer to get rid of Mickey's crimes comes from Chief Parker (Nick Nolte). Chief Parker needs John to set up such a special unit to mess Mickey Cohen business network. John is interested in it and immediately recruits the members. The members are some from police department as well.
However, there is such a requirement need to be fulfilled by John and his team in which the member from police department must put out their badge in order to avoid any out identity. The street battle is finally started. Are John and friends able to destroy Mickey and his men?

The setting is using 1949 style whereas the Hollywood billboard is still on Hollywoodland. Squad gangster is very sarcastic and has an old special America's characteristic.   The strongest is the ruling.

There is torture as well as shoot-out scene which has been presented even at the beginning of the movie. However, it is not only such a violence presented by the movie produced by Ruben Fleischer but also there is a love story between Grace Faraday (Emma Stone) and Sergeant Jerry Wooters (Ryan Gosling) which is also to be the other interesting unsure in this movie.