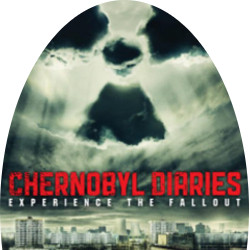 Horror movies offer different feeling and senses as you are watching it. Even though most people are easy to get frightened but horror movies still have their own fans. One of the scary horror movies should be considered to watch is Chernobyl Diaries. Even though it has been released since a year ago, it is still considered as an interesting movie you should watch. The tension offered will never make you bored in enjoying the scary.

The story is about six young American adults who are in tour to Europe. There is Chris with his girlfriend and their mutual friend, Amanda. Chris and the two girls are travelling to Europe and visit Chris' brother named Paul in Keiv, Ukraine before going to Moscow. Chris has a plan to propose his girlfriend when they are arriving into Moscow.
Paul offers them whether they want to get an extreme tour or not. He offers them to visit an abandoned town named Prypiat, which got bad effect from a big explosion of fourth reactor plant since April 26, 1986. The workers, firemen, neighbours and also residents at the entire countryside were poisoned and dead in various times. All of those victims were evacuated by Soviet government and they never come back.

Chris' group asks Uri as a tour guide, he is Paul's friend. There are backpacking couple joining into the team named Zoe, a Norwegian and her boyfriend Michael, an Australian. Initially, they are rejected by the Ukrainian military to enter Prypiat. But Uri has a better idea to enter the town. He brings them to another way and enjoys the adventure.

They spend several hours in enjoying the quietness of this abandoned city. The houses around are owned by Chernobyl workers and also their families. They take many pictures and enter into a building. When looking around, Uri hears such a noise from somewhere. It is shocked when he find out that the noise is from a bear. Being frightened, they all group run away from there toward to their van. Unfortunately, Uri fails to light the van up. After checking, Uri find that the cable of the van has been bitten by something that made it broken.

The night falls, and pushes them to stay along the night. They start to blame and argue each other. Chris gets angry to his brother, Paul because Paul is the one who asked them to go to this city. While blaming each other, Uri hears noise from outside the van. Then he takes his gun and goes outside. Chris tries to follow Uri and they disappear into the dark of the night. After a second there is no one coming back and suddenly there is a shoot of gun. They all are worried so that Paul goes to the sound source. Suddenly Paul comes back to the van with Chris who has been hurt in his leg. And they are screaming because there are so many dogs try to chase them. Uri is not coming back and nobody knows what happened to him.

When the day is coming, they separate the team into two. Chris who gets hurt on his leg should stay at van with Natalie, his girlfriend, whereas Paul, Amanda and Michael go out to look for Uri. Since they found that Uri has been mutilated, they escape to that place and go to the van. Then, they want to walk to the nearest station to ask for help, but Chris cannot walk. So, Chris and Natalie stay and Paul and friends walk.

You will get some of scary scenes that show how they are haunted by many scary things such as mutants, the humans who exposed by radiation and also wild dogs. One by one, they are falling down. Just find out then continue of the story by seeing it directly.