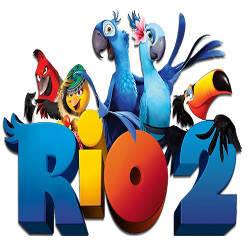 The next sequel of Rio has back to tell about the Blu life story (Jesse Eisenberg) together with his little family who live in downtown, Rio De Janeiro. Blu who has 3 kids is different with other parrots. He along with his family has been lived like human being. That's all happened because Blu live with Linda, the one who has taken care of him since he was a kid.

It turns out that Linda with her husband bring back a rare chicken that lives in Amazon. It makes her find a number of blue maccau parrots, just like Blu. Thanks to the two both, Blu's wife asks Blu to go to Amazon in order to find the origin of Jewel (Anna Hathaway).
Rio 2

Blu's love is exactly big to his family. That's why he decides to give what his wife wanted even though he feels scared to live in the wild. With full of preparation, finally he and his family go to Amazon by using PDA, an unusual device used by such a parrot.

The story of Rio has correlation with the former, Rio 1 whereas on the first sequel, Blu had to face his old enemy, Nigel (Jemaine Clement) that cannot fly because of Blu. The conflict faced by Blu is not over. He should stand to live in the wild, Amazon forest along with a group of parrots including Jewel's father, Eduardo (Andy Gracia).

This animation movie is interesting to watch because it not only provides you some funny-character animals but also presents beautiful songs with the funny dances that make you laugh out load. Moreover, the movie brings such a moral message or human being that animal and human can live together, not hunt each other.

Besides, the movie reminds us not to cut down the trees because it will destroy animal's house and also their territory. Tunable songs from the dubbers make this movie more awesome. There are Kristin Chenowth, Bruno Mars, Will i Am, Jamie Foxx, Jake T Austin and so forth that get involved into the movie making.

Entirely, Rio 2 is very entertaining. It can be enjoyed by all family members. Besides, the 3D format makes the quality of the animation is amusing.

So, how is the next story? Does Jewel's father want to accept Blu and his friends in the wild? Find out the answer from the movie.