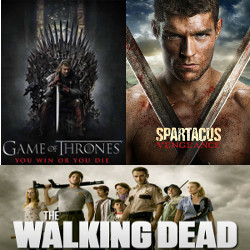 The age of the sitcom and episodic drama is over. Now, many popular television shows are more like long movies with each episode built onto the last as it works toward a compelling climax. There are dozens of amazing new programs from both premium and regular cable channels. Here are the top five shows to look out for in the coming months:

1.) The Walking Dead. Based on a popular graphic novel, just completed its second season and fans are already clamoring for its return. Combining zombie survival with complex character-driven narratives and lots of intrigue, The Walking Dead is one of the most innovative revivals of horror on television. Even more interesting is the show''s interactive fan site and talk show, The Talking Dead, which encourages viewers to chime in with opinions and speculation.
2.) Breaking Bad. This drama combines gritty realism with high-stakes drama. The show is entering its fifth season with new episodes expected in July and shows no signs of slowing down the high pace it is set.

3.) Spartacus. This titillating historical show airs on Starz. Although the show''s production was interrupted by the unfortunate death of the lead actor, Spartacus did successful air a prequel and second season. The new actor, Liam McIntyre, has filled the role with his own personality, and fans have been clamoring for more since the explosive finale.

4.) Game of Thrones. This HBO series is based on the best-selling fantasy books by George R. R. Martin. Currently the show is airing its second season, but if you have On Demand, you can catch up with the episodes. The show has already been renewed for another season and will probably last for at least five seasons -- one for each book released.

5.) Futurama. Although high-concept dramas are currently dominating television, well-written and witty sitcoms and animated comedies still pull viewers, and Futurama is one of the best shows of its kind. After being canceled, the show began to run reruns on Cartoon Network''s Adult Swim, and fan demand was so high that the show was brought back to primetime on Comedy Central. The newest season airs in June.

Although television has often been considered the inferior or "low-brow" entertainment, the wit, intelligence and craftsmanship of current TV proves that television has been elevated to art. Whether you set your DVR to record a favorite program or carve time out of your schedule to watch the new episode, there is plenty of programming you shouldn''t miss.