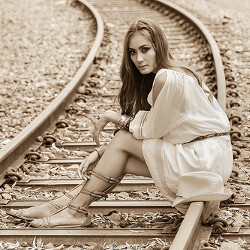 A Bohemian personality is one that doesn't bother following society's conventions, so a Bohemian is essentially a free spirit. It is no wonder, then, that so many people want to emulate the Bohemian attitude through their fashion, and there are, thankfully, plenty of creative ways to achieve a stellar Boho look without much effort. 

Not sure how to pull off a Bohemian look, no matter how badly you'd like to revamp your wardrobe and incorporate Boho elements into it? Then continue reading for a few tips that will help you find the very best clothes and accessories to exemplify your unique personality and spirit.
Choose Earthly Colours
One of the key elements that make up the Bohemian look is earth tones. Choose a colour palette that includes shades of black, brown, beige, and green. These are warm, rich colours that will go perfectly with any accessories you choose to add to your look. 

But remember, too, that you can add pops of colour as well through accessories or even through the clever use of layers of clothing. So go for shades of grey, red, and purple, as a few examples. Just make sure that all of the colours you choose to wear will complement your skin tone. 
Head Accessories
Another great way to achieve a chic and attractive Boho look is by accessorizing your head. So, in addition to the typical accessories, like a great pair of Oakley sunglasses or matching hat and gloves that you'd wear during the holidays and throughout the winter season, opt for cute headbands and headwraps. Stick with thin headbands that will look perfect across your forehead, or go for a thicker turband for a completely different look that's just as Boho.
The Must-Have Maxi Skirt
A maxi skirt is a Boho fashion staple that every woman should own. You can use it over and over again to create a variety of different looks, so this one investment into your wardrobe will definitely go far. Choose simple styles with solid colours, and avoid those that puff out too much from your body. Pair this skirt with a graphic tee and a vest, or wear it with a v-neck top in a complementary solid colour. You can even wear it with a flannel top, canvas sneakers, gladiator sandals, or wedge heels.
Large, Patterned Scarves
Yet another staple in the Boho wardrobe is the scarf, which should be large, oversized, and patterned. The idea is to transform any outfit into a relaxed one. And the great thing is you can pair a scarf with any outfit, from a t-shirt and jeans, to a skirt and top. Plus, with the myriad ways that you can tie and fold your scarf around your neck, you can always change your look easily.

With so many great ways to pull off a stylish Boho look, you can let your inner Bohemian spirit shine through no matter where you go. By choosing the right clothes and accessories, you can capture the Boho look in a way that doesn't look disorganised or unkempt in any way.