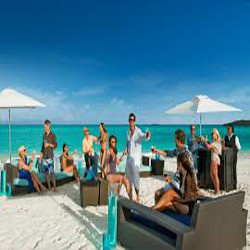 Taking a trip with your best buddies is a different kind of vacation than a family outing or a solo adventure. Touring the world with a gang requires a plan that takes account of a diverse group of people, so finding destinations that offer something for everyone becomes very important. Here are a few ideas for your next with-friends sortie:
Dublin, Ireland
The capital of the country renowned for its friendly welcome is also the home of a very particular beverage: Guinness. This is the ultimate brand (in smiling Irish eyes at any rate) of stout or porter. Of course, they drink all sorts of other things in Dublin and indeed throughout the whole of Ireland, and you can spend a convivial evening in any one or more of an astounding range of establishments throughout the city center, particularly in the Temple Bar area.It's more than likely that music will feature, no matter where you are.
Being based in Dublin also makes a host of other places accessible, including coastal towns, and during summer recess at the University of Dublin you can enjoy reasonably priced en suite accommodation and share a kitchen and living areas with your friends.
Great things to do and see include visiting the Guinness Storehouse, which is an amazing experience, and viewing the ancient Book of Kells in the stunning library at the intellectual oasis of the city that is Trinity College.Peak holiday times to visit Ireland are July and August; you might find however that you enjoy your travel experience more if you go in May, June or September. 
Amsterdam, Holland 
Across the sea from Ireland (and England) is the Dutch capital of partying, where the brown cafés allow you and your friends to partake in the use of marijuana, thereby apparently enhancing your travel experience and ensuring youmeet one or two of the more colorful local characters. Group apartments in Amsterdam are wonderful places to stay as they are very private, and there are group discounts for your groupif you choose to be based there. 
Nightlife in Amsterdam is exceptional and the cultural traditions are relaxed and easy-going. Strolling along by the canals and the shopping streets you can enjoy the historic architecture, and in the spring the tulip fields nearby are an astonishing spectacle to behold. 
Of course, the majority of visitors will want to visit Amsterdam when it is mild and that tends to be between April and September. The holiday season in December can be busy and expensive, so for a budget trip consider making your group journey during October or November, or between January and March. 
Zermatt, Switzerland 
When it comes to the best group activities, winter sports can appear to have it all. In Zermatt, you and your friends can enjoy days on the mountain slopes, skiing, climbing or snowboarding,followed by a choice of a quiet après ski evening or taking part in the louder, more energetic nightlife available. Accommodation options are plentiful, including hotels and holiday apartments, and because Zermatt is open 365 days a year, you can travel here any time you please and still enjoy a winter wonderland. 
As well as snow-based activities there are mountain excursions, and in the summer biking and hiking is much enjoyed. With its collection of gastronomic restaurants, spas and indoor pools, you can also have a great chill-out time with your group, if that's what you're all looking for. 
Merzouga, Morocco 
However, if hot and dry sand rather than cold and wet snow is more to your taste, you could always consider a Moroccan adventure in the Sahara Desert. In fact, it's probably better to travel here as part of a group than solo. The sand dunes around the village are truly majestic and most groups like to participate in a camel train, where they can get a taste of Berber life, albeit nowadays influenced by the effects of tourism. 
The best time to visit is between February and April as in winter months night temperatures get very cold. In the spring, the nights are cool, however daytime temperatures are pleasant at between 25 and 30 degrees Celsius (77–86 degrees Fahrenheit). 
Besides your camel safari with friends, you might want to try one of the yoga, meditation and dancing retreats, and there are a number of comfortable lodges and hotels that provide excellent accommodation. 
So, if you have found something to your taste, why not share it with your friends to see if you can arrive at a joint decision about the best place to go for your group vacation?