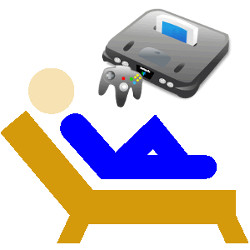 Can Video Games Really Make You Relax?

Most video games are aimed at frantic action and fast reflexes to satisfy the many hordes of youthful, modern gamers. However, there is another side to gaming starting to emerge.

Let''s take a delve into the calmer side of the gaming world - and where better to start than with Deepak Chopra''s, Leela. This game, available on Xbox360 Kinnect is a concept that uses relaxation and meditation techniques alongside technology to help bring focus, energy and balance to your life.
How it Works

By using differing body parts to perform seven chakras (which are levels in the game with different meanings) your movements like swinging your hips from left to right will help you to move rocks, planets and water around the screen to reach your goal and release energy through your body whilst doing so.

The idea is to relax as you move slowly and gently to move the objects on the screen. The game is designed with the idea of each chakra being linked to a separate part of your body and mind.

The Wild Divine

Another type of game aimed to make you relax is the Wild Divine. This game comes in a training bundle pack which uses Iom training hardware which claims to make you use thoughts and muscle tensions to control what happens on your computer screen rather than using joysticks or a mouse.

The game uses finger sensors to track all your responses as you play in a non-violent setting.
It also uses several breathing techniques to control movement as it trains you to concentrate and focus which in turn helps you to relax.

Are These Games Fun?

Indeed, relaxation games can be fun if you can master the art of meditation through them. In this way they can then become an everyday form of enjoyment.

Also take the feature of harnessing powerballs between your hands. By slowly moving them together and apart you can create some great effects on screen. This too can give you a real sense of power, helping control your thoughts in a creative way. This has to be fun for those who shy away from mainstream gaming mainly due to the belief it is more destructive than creative - and also due to the noise. As relaxation games are set in calm realms, it goes without saying you will relax more and avoid the stress of normal game play situations.

Do They Really Work?

The games mentioned above are two of the leading types of games in this genre and have good reviews on the internet. However, they may not be everyone''s idea of gaming as such.

Cost of Games

Prices tend to vary with some of the packages (including software costing up to £200) but with games like Leela being under £20 there is a price to suit everyone.

Relaxation Games: The Future

It seems that movement and mind control will feature more in gaming as developers further discover ways in which to connect us to our screens using these methods. This would point to more games being created simply in order to relax people - at least in the relative short term.

Good news for the future of the gaming world? Some would certainly think so. And besides, who doesn''t need time to wind down, just once in a while?