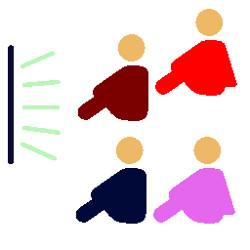 There's definitely something creepy going on in TV land….

The past few years has seen a slew of scary programs made just for network television. Even the "big four" basic networks are getting in on the act, but why? For one thing, scary sells. Another reason that people like to watch 666 Park Avenue and similar programs is the simple fact that it's one of the easiest methods of escapism available.

The diversity of programming available today is tremendous. You can watch a comedy, follow it up with a reality TV show, and top it off with a suspenseful drama or horror, all on the same channel. Taking a tip from Hollywood, TV networks have expanded their offerings to include small screen scary programming in an effort to compete for audiences. They know you want diversity, and they are more than ready to provide it.
Like to watch scary shows on the small screen? You're not alone; this scary drama was cancelled, but due to audience demand you can watch 666 Park Avenue online and they plan to air previously un-aired episodes to appease the fanbase. At its peak, 77 million people tuned in for the spooky drama, not bad by any means, but not enough for the network to commit to a second season.

Other favourite spooky shows to hit small screens in the past few years have been extremely successful. "American Horror Story" and "Grimm" are prime examples of what viewers love—a chance to escape the realities of day-to-day life. Anticipating curling up on the sofa underneath the covers on a Friday night, getting scared by the small screen, gives you something to look forward to. It's one of television's greatest benefits, and you don't even have to leave home to take advantage of it.

Many people love the idea of watching a scary movie, but don't want to spend the money to go see one in cinemas. Watching scary movies at home is a good alternative, but it's just not as fulfilling as following an entire season of spookiness. Scary television programs are not only a great alternative to scary movies; they are a great chance to really get involved and interactive with your programming.

Thanks to the great special effects and higher budgets of today's scary television programs, you can enjoy high quality programming every week. Some TV shows have better quality than some of their Hollywood movie counterparts, too. Why pay more to watch a low quality movie at a cinema when you can stay home and watch something that's well-made and super scary for free or just the cost of your monthly cable bill?

Forums and social media groups have sprung up for fans of spooky shows, allowing them to jump in and speculate as the season progresses. Thanks to social media and clever internet advertising campaigns, you can feel more involved with the spooky shows you watch on television, making it much more enjoyable. Plus, the more you immerse yourself in the culture of a spooky show, the more fun you have when you watch it.

Whether you watch 666 Park Avenue or any other spooky shows, you're sure to have a great time watching from the comfort of your own home, thanks to the small screen.