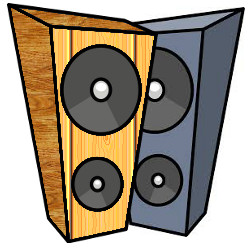 Whether you're just putting together with your home entertainment system, or giving it an upgrade, don't overlook the benefits of a decent sound system. One simple component- a good set of speakers- can notably enhance your full-on entertainment experience, and finding the right ones for you needn't be too daunting a task with just a bit of planning ahead.

Considering your audio needs and being prepared before you go shopping will help you stay within your allotted budget (yes, it's a good idea to have one before you go!). Strive to get the very best value for your hard earned cash. Here are a couple of hints to help you do just that, without feeling overwhelmed by the huge selection you'll be choosing from, or by too-aggressive salespeople.
It's true that the built-in speakers come with televisions-including the pricey, top quality new ones- are relatively small, making it difficult to get the best quality sound from them. Adding better speakers is a simple and effective method for taking your home entertainment system from 'good' to 'great'. Do you plan to use your system for listening to music as well as for TV or DVD watching? Many home-cinema systems are ok for video or movies, but are not the best for music. If music is a priority for you, you should consider a system that will enhance the quality of both. Consider whether or not you really need "surround sound". At the lower-priced end of the market, you''ll achieve much better sound with a two-speaker stereo system than with a more complicated five-speaker-plus-subwoofer system at the same price point. (Make sure your DVD player is set to "stereo output", rather than to "surround sound", to get the best performance from your speakers.)

To get the best speakers for your home needs, think BIG! Assuming you have the space for them, bigger speakers really DO mean better sound- and the very best sounding speakers are encased in wood. Just because the room may be small doesn't mean you won't get benefit from larger speakers. Bigger doesn't mean louder (unless you turn up the volume, of course) but it does mean BETTER. Some good but more expensive versions can be had in smaller sizes, but if your budget is tight, stick with the largest speakers you can fit comfortably in the room, and you'll get the best sound for both your space requirements AND your wallet. Remember, if space is limited, wall mounting is an option, and this can enhance the quality of the sound as well. Sometimes a good looking set of speakers actually lends to the visual appeal of an entertainment focused room, too. Think of them as a part of your design!

Another good idea is to bring "audition material' like a favourite CD and movie, to the store with you so you can listen before you buy. Bring media that you like the sound of, and are already familiar with, so you will know what you'll be listening for. Take your time. Try out different Selby speakers at different price points. It won't sound exactly the same as it will at home (the acoustics will be different than they are at home). Still, for all but the most serious audiophiles among us, it will give a general idea of what the overall tone of the speakers will be. As you listen to the various speakers, you will begin to hear the differences, and you'll find yourself drawn to the sound you like the best. Even if you don't exactly 'know' what you are listening for, it's ok- having a name for it isn't the point. "Good" sound is very much in the ear of the beholder, so trust your own opinion!

One final, important reminder: DO read the warranty! If it's a toss-up between one set or the other, everything else being equal, the one with the best warranty should win your dollars. If an add-on warranty is offered by the retailer for an additional fee, consider it carefully. It may be worth it, but only if it covers more than the manufacturer's warranty does, and for a longer period of time.