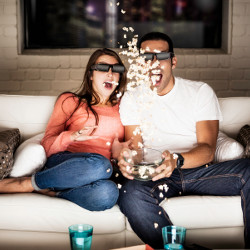 If you are building a home theatre, there are several options that will provide the most realistic experience equivalent to an actual movie theatre experience. Choosing the best home cinema will encourage you to remain at home and experience the movies in full HD color and sound. Here are our top recommendations:

Epson Home Theater

Epson is one of the best home theatre projectors on the market. When it is combined with the Jamo 5.1 home cinema speaker system or the JBL home cinema speaker system, the results are astounding. The graphics are realistic, and the sound is crystal clear. Most of the Epson theatre packages are also accompanied by the frame projector screen that ranges from 92 to 120 inches. Some of the packages are also provided with floorstanding speakers and bookshelf speakers in addition to a home theater receiver with Apple AirPlay. 
What many home theater goers enjoy is the full HD 1080p performance. With 2,400 lumens of color brightness, the images will virtually come to life and seem to hover off the screen. The contrast levels are phenomenal with a ratio of 600,000:1. This is an impressive system that most avid movie watchers are impressed with after purchasing.

Panasonic PT-AE4000U LCD Projector

This projector is one of the best in the industry because it provides excellent picture and contrast ratio. It is more expensive than most other projectors, but in most categories, it is worth it. It only lacks in its lumens ratings. HD 1080p video resolution is supported by the device. It can process over one billion colors. 

The images are rich and vivid, and it has a contrast ratio of 100,000:1. It is one of the best ratings on the list, but it is still not as high as the Epson. The Pure Contrast Plate will help to block out any light leakage. The blacks appear truly black instead of dark gray or charcoal. The average lifespan is in the midst of 3,000 hours and 4,000 hours. 

Select the Best Projector and Speakers for Your Home

Though only two projector manufacturers were chosen from the list, both of these manufacturers provide exceptional projectors and home cinema speakers. Both projectors will combine well with the JBL or Jamo home cinema speakers and provide a true cinema experience. Ask an expert and determine which projector and speakers will work best for your home.