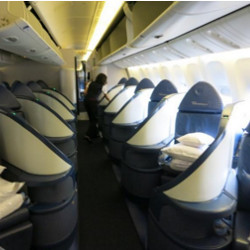 Business class cabins are all about comfort. When comes to it, frequent passengers consider spending a huge amount of money on the flight totally makes sense. Moreover, business class is not only about the onboard services. Everything is better with a business class ticket – VIP lounges to wait for your flight, special counters and no lines for the passengers for checking and during the arrival, showers and hygiene rooms if your hotel number is not available at a time etc.
However, the most time of your flight will be spent in the seat. This is what we consider the most important feature. It distinguishes the real business class supplies and services. CheapFirstClass.com decided to check which airlines have the best business class cabins and seats.
For the beginning, it is important to define three kinds of seats that might be considered as a "business class seat":
Recliner – an armchair-like seat that is recline than coach and usually with foot rests; cannot be flattened and does not work as a bed;
Angled flat – a seat that can go fully flat but not paralleled to the floor; quite useless for sleeping as passengers might slip off of it;
Flat bed – a flat surface makes it comfortable to have rest on it; fully flattened and paralleled to the floor.
British Airways was the first to use fully flat beds and, since that, it has become the world standard. The airlines offer different variations of flat beds, yet they are the only comfortable option for a long-haul flight.
Now let's find out whose business class is the best.
The US carriers offer our-across all aisle access on the bulk of their international fleet, which looks rather confining on the narrow fuselage on a Boeing 767. American's 777-300ER, 777-200, and 787 aircraft have much better business class sits. The business class reputation has never been America's strong side; however, they drove innovation in the business class hard product – the 'reverse herringbone' seats. They are not very private but quite comfortable.


European Carriers. You would be surprised, but considering the reputation of European airlines, they are two steps behind the USA in terms of the business class. Even though British Airlines pioneered fully flat seats, they have not yet adopted the top world standard seats for their next generation offering. Air France still operate many aircraft with angled seats, which is not quite convenient.


Asian Carriers. Another surprising fact: the best business class services and seats are offered by Asian airlines (Singapore Airlines, Cathay Pacific, and EVA Air). With a four-across configuration, like in first class, Singapore Airlines' seats are incredibly wide and they are relatively private. Hong Kong-based one world member Cathay Pacific offers reverse herringbone all aisle access seating. EVA Air's seat is reverse herringbone and very similar to what Cathay Pacific, American Airlines, and others offer. That is why we consider Asian seats are the best in the world.