This infographic was originally published on Hipmunk's Tailwind Blog on April 27, 2017, by Kelly Soderlund.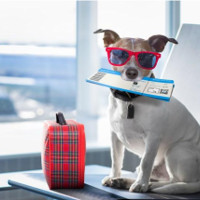 It's probably pretty obvious that Hipmunk loves animals (I mean, we have one as our mascot. We also boast a dog-friendly office). And as a travel company, we're highly sensitive to the conflicts that arise between wanderlust and the love for one's pet. We're also pretty good at mitigating the risks when we choose to take our pets on planes.
Following the news of the untimely death of Simon the Giant Rabbit, I asked around the office for tips on keeping your furbaby safe on flights.